About Summit Treestands
A message from John Woller, Founder of Summit Treestands: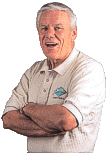 It's hard to believe that it's been 30 years since we started making treestands. I would never have imagined that what started out as a small backyard business could eventually evolve into the Summit you know today.I think back to the original Summit, also known as the TSQ. We revolutionized the industry by bringing a stand to the market with the four features needed to be successful; silence, security, concealment, and comfort. At $150, it was the highest priced stand on the market. Believe me, it took some convincing to get sporting goods stores and hunters to realize that our "expensive" treestand would make them more successful. Once the word got out, the company grew at an amazing rate.
We continued to manufacture several different models through the '80's and '90's, but realized that the weight issue was very important to lots of you. In 2000, we came out with our first aluminum climber. This was a pretty radical step for us, but we've never looked back. We've been manufacturing lightweight climbing stands for 10 years now, and plan to continue. With your help, we'll still be here helping hunters in another 30 years.
As always, we appreciate the support and friendship you've given us through the years. Good luck with your hunting and remember, ALWAYS use your safety harness.
Sincerely,
John A. Woller
Founder
Click one of the links below to learn more.