Crush Series of Hang On and Ladder Treestands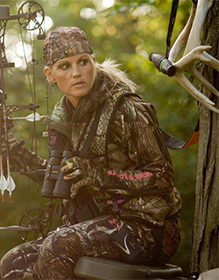 Summit has teamed up with Lee and Tiffany from The Crush to bring you a brand new, economical line of Hang On, Ladder, and Tripod Stands.
The Perch, Stoop and Ledge Hang On stands round out the Crush line. All three feature durable steel construction and are easy to hang. The Ledge has the largest platform with a built in footrest. All are rated to 300lbs.
The Solo Performer is the entry level stand - the bare minimum if you will. It includes a lightweight steel top and ladder. The Solo Deluxe adds a gunrest and footrest - along with a full backed suspension seat. The Solo Pro is a little bigger and has a large full sized platform. It also has a large gunrest and seat.
The Dual Pro builds off of the Solo Pro with a large full platform and enough room for two adults. The Dual Performer shares the size but cuts back on weight with a half platform.
The Outlook is the latest ladder stand for the Crush Series. Dependable setup and stable support system combined with multi-directional seating, makes this stand ideal for all users.
All new Crush Series Ladders are easy to assemble, setup and use.
The Watch Tower is the newest member to the Crush Series. This tripod stand comes in two heights, 12 feet and 16 feet, and allows the user to turn a full 360 degrees. The platform wraps all the way around for comfortable sitting or standing.