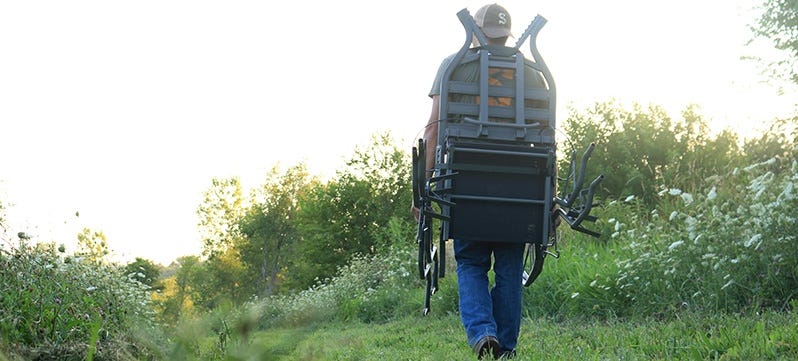 It's hot, it's humid and the creepy crawlies are out, but it's still the perfect time to be in the woods. Deer season is just a few weeks away, which is why the work needs to be done now.
Recent studies have shown how just a small amount of human intrusion into a hunting area can cause bucks to reduce their daylight visits to a spot or avoid those areas for several days after. By utilizing the offseason, you can get all your work done ahead of time and let the woods rest prior to season. Here's what to focus on now.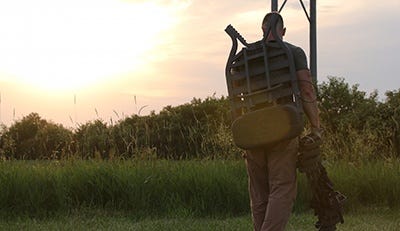 HANG STANDS
By now you should have some early-season bow stands in mind and hang-on stands ready to place among the trees. Some early-season areas to concentrate on are food-plot edges or better yet, trails leading from bedding cover to a food plot. History should tell you where deer like to enter certain fields; but if you have a summer crop planted simply walk the edges until you find an area or two where the crops are heavily browsed. This usually indicates where deer enter a plot and begin eating. From here, walk into the woods and locate a definite trail that leads you to where the deer came from. If you can locate a legitimate bedding area, then back off from it and hang a stand 20 to 25 yards on the downwind side of the trail 100 to 150 yards from the bedding cover. You might have to hang a stand farther from the bedding area if you can't enter quietly or if the wind will blow toward any portion of the bedding area. Be sure to locate a tree with good background cover to break up your outline or hang your stand on the opposite side of the tree from the trail.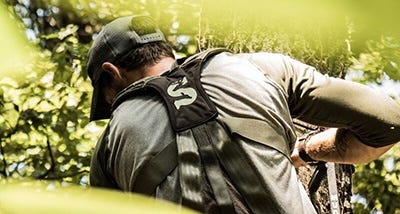 TRIM SHOOTING LANES
Once your stand is securely hung with your harness on and safety line attached, then it's time to climb in and check out the view. Visualize where the deer are coming from and going to, then figure out the best place to intercept them for the shot. Remember, a quartering away shot is the best for archery equipment, so place your stand and trim your lanes accordingly. Whatever you do, don't cut too much cover. Cut enough cover to easily draw your bow and to allow your arrow to fly uninterrupted to its target. Be sure to leave plenty of cover to break up your outline and movement. It's always good to trim a couple lanes in case a deer passes through your first lane, then you still have a chance at a shot in your second lane. If you think deer might skirt around your location, then cut a lane to intercept them before they hit your scent cone downwind. Start with one person sitting in the stand while directing another person on the ground on which limbs to cut. Be sure to use an extendable set of pruners or motorized saw for this job as many limbs will be out of reach of traditional hand tools.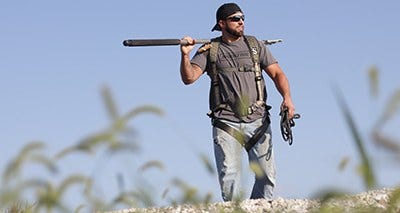 CLEAR ENTRY AND EXIT PATH TO STAND
This chore is often overlooked. Now is the ideal time to clear your entry and exit path to your stand. Be sure that you can access your stand without alerting deer that you're in the woods. Once you've established this location, then it's time to trim any undergrowth that will rub against clothing or equipment, make noise or leave scent. Next, if possible, rake a path within the last 100 yards to your stand so that you can quietly enter your stand location. Also, be sure to hang reflective tape or ribbon to easily find your way into and out of the woods.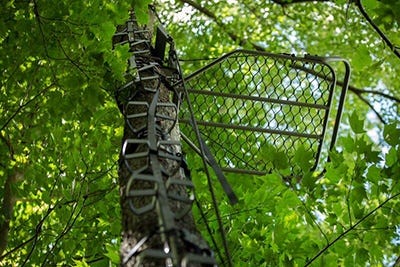 CHECK EXISTING STANDS
While you should remove your stands each year and store them in a dry place, this doesn't always happen. So, it's of the utmost importance to check all of your stands that were left in the woods from the previous season. Look at all the straps on your ladders and steps leading up to your stand. Ensure that they aren't chewed through or dry rotted, but instead are still in strong working order. Also, be sure to tighten or loosen any straps as needed. Typically, you need to loosen them, especially if on a pine tree, which tend to grow fast. As the tree grows it puts tremendous stress and pressure on these straps and you'll need to loosen them and then snug them back for a secure climb. Be sure to check all straps and ratchet straps used to secure your treestand. If there is any visible sign of a compromised or weak strap, then replace it with a brand new one.
Don't wait until the final weeks before season to get these chores done. Not only will you not be rushing right before season to get stands hung, but your deer will be at ease when season opener comes in. You can find any and all replacement parts for your Summit stands here. Now is the time to get in the woods to get those new stands hung and give existing stands a thorough rundown for maintenance repairs and replacement.