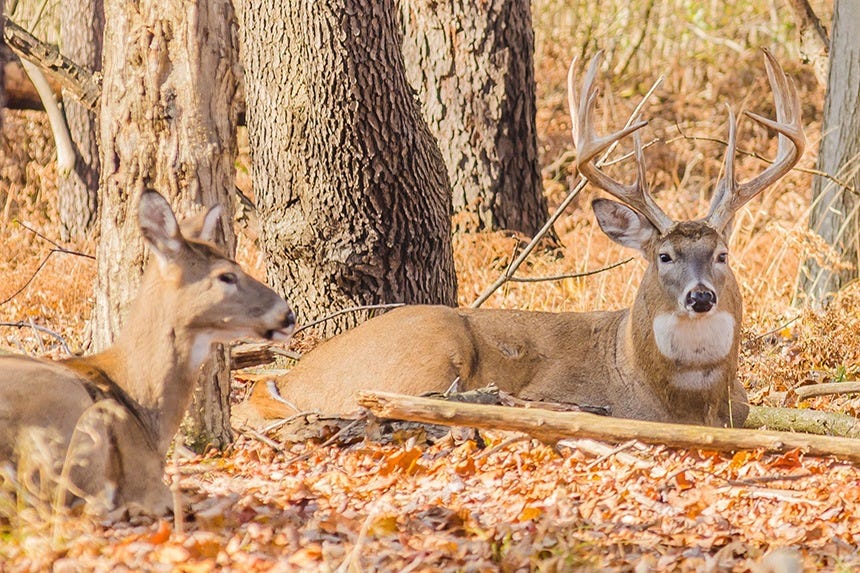 We all know that the rut can be a fast-pace time to deer hunt and it can also be very frustrating when that lock-down phase hits. Every region has the same issues whether you hunt the Midwest, Southeast, Northeast, West, etc. The issue is learning to adapt to the change and understand where to hunt when this phase hits.
A breeding buck doesn't want to contend with other bucks, and neither does the doe. That's why much of the time, the breeding pair will be holed up in a thick area out of the way from the normal travel routes. To combat this sudden change in movement, look for cedar thickets, thick areas in timber and CRP as these are great places for bucks to push does during the lock-down phase.
With that said, move a few cameras to one or more of these areas prior to this. For example, in the Midwest this would be around the later part of the first week in November. To go one step farther, pre-hang a few hang-on stands in these likely areas based off prevailing winds or look close at future forecast and play your cards very carefully.
The key will be to get in and out of these locations without disturbing deer. Going into these sets extremely early in the morning, say an hour before you normally would, can pay great dividends. Many times, the doe will lead the buck out as she goes to feed, which gives you the opportunity to be set and ready when they return. Often, they return before daylight much like bucks do for much of the season, however they don't stay bedded all day.
While the lock-down phase can be a tough time, it can also be a time when you take the best buck on the property or a giant that moved in looking for a hot doe. Take advantage of the rut from the chasing stage to the lock-down phase to increase your success.
About the Author: Chris Parrish has won turkey calling contests at the highest level and has hunted up and down this continent. He has a well-honed knowledge of the habits and patterns of mature whitetails — having recorded 22 bucks in the Pope & Young and Boone & Crockett record books. He's been an ambassador for PRADCO Outdoor Brands as well as many more. Chris has a passion for sharing his knowledge with others, so look for more of his articles here and at Moultrie Products and Code Blue.