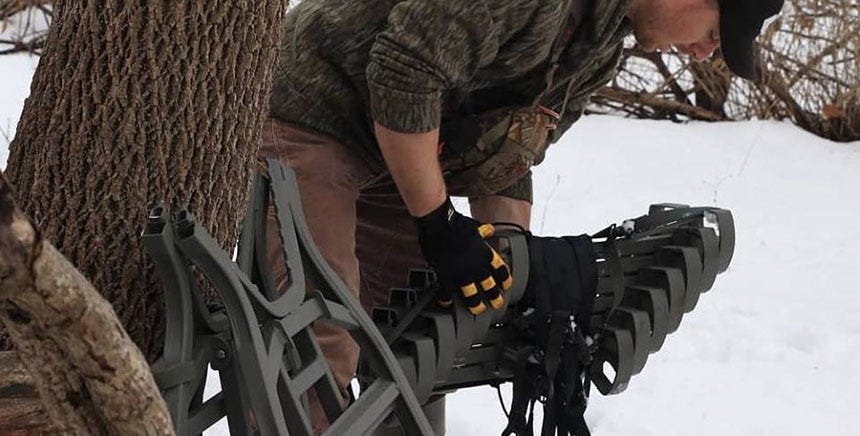 When is the best time to take down your treestands? Well, I can tell you the worst time is after they've sat out in the elements for years and the straps are failing, the hardware has rusted, and the safety of the unit has been compromised.
Today's stands are better than ever, but they are not infallible. Routine maintenance is required, and common sense should always rule the day. Here are three prime times to remove your stands for some off-season tuning.
Let's face it: The road to failure was paved with good intentions. It's easy to say, "I'll head back out and get that stand later." It's much harder to actually follow through with that declaration. Once you've hunted a stand for the final time in a season, take it out with you. Plan the final week or so of the season with this goal in mind, hitting a different stand each day.
2. During a Clean-up Weekend
If you're like me and hang dozens of stands each year, it's probably not feasible to pull every stand down the last time you hunt out of it, as some stands likely go weeks without being hunted. Because of this, I always reserve the weekend after deer season closes as a "clean-up" weekend. This is when I'll scout bedding cover and hang my over-winter cameras. I'll take a UTV (if landowners have approved of its use) and pull out all my stands and climbing sticks. It usually takes a full day and a couple of trips, but when the day is done everything is collected. The stands are then stored inside, out of the weather, and ready for off-season maintenance.
We see plenty of snow and ice in my home state of Michigan. If a major weather event hits on my scheduled cleanup weekend, I'll delay until conditions improve. There is no reason to push my luck—getting everything out of the woods as quickly as possible isn't worth slipping on an icy step or platform and falling. Wait a few days and the sun will shine. Even if temps don't get above freezing that sunshine will likely clear the ice and snow from your stands.
About the Author: Tony Hansen manages for and hunts mature whitetails in his home state of Michigan, where sweating the details is the only way to succeed. When not hunting his own properties, he can be found pursuing deer on public land throughout the whitetail's range. Tony's writings have appeared in Outdoor Life, Traditional Bowhunter, North American Whitetail, and Bowhunter.