Crush Series Strap Recall Notice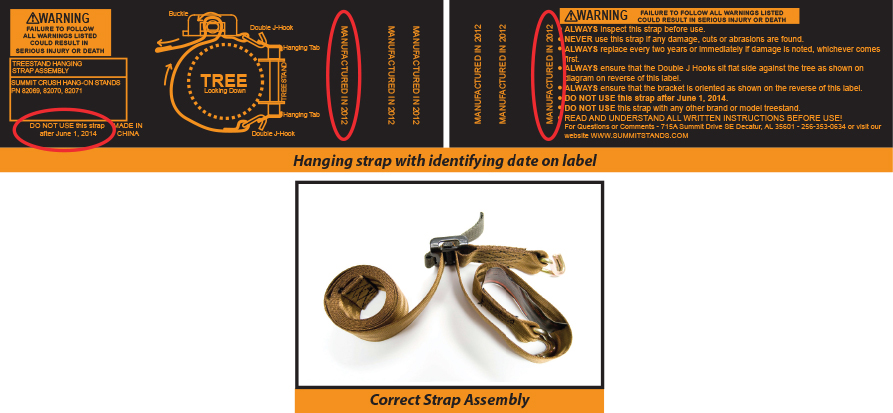 Crush Series hanging strap assembly Recall Notice
Summit Treestands has discovered that some of the adjustment buckles included with the treestand hanging strap assemblies were produced with incorrect strap routing which will not function properly. While we have no reports of personal injury to date, any accidental improper use has the potential to result in serious injury or death. Consequently, Summit Treestands is voluntarily recalling all Summit Treestand Hanging Strap Assemblies packaged with treestands: The Crush Series Perch 82069, The Crush Series Stoop 82070 and The Crush Series Ledge 82071 to replace the treestand hanging strap assembly at no charge to the customer.
If you own a Crush Series hanging strap assembly you should immediately stop using your hanging strap assembly and affected treestand and discontinue any further use until you have completed this recall form and received your new hanging strap assembly from Summit Treestands. This recall ONLY requires that your Crush Series hanging strap assembly be returned and replaced. Even if you have never had a problem with your Crush Series hanging strap assembly, you should not use your hanging strap assembly or affected treestand until you have received your replacement bracket/strap under this recall program.
If you own more than one Crush Series hanging strap assembly affected by this recall, please complete the form for each product owned. The form below should be filled out completely. When completed the "submit" button will initiate a process whereby a new Crush Series hanging strap assembly assembly will be sent to your address. The new hanging strap assembly will be sent by UPS and should arrive 5 to 7 business days after the date when the return request was received. When this new hanging strap assembly arrives please follow all of the included instructions.
Thank you for your cooperation,
Summit Treestands
Warning: Stop using the affected treestand and hanging strap assembly immediately.
NOTE: This warning does not apply to any other part of the affected treestands other than the specified hanging strap assembly. This warning does not apply to any other model of treestand manufactured by Summit Treestands.