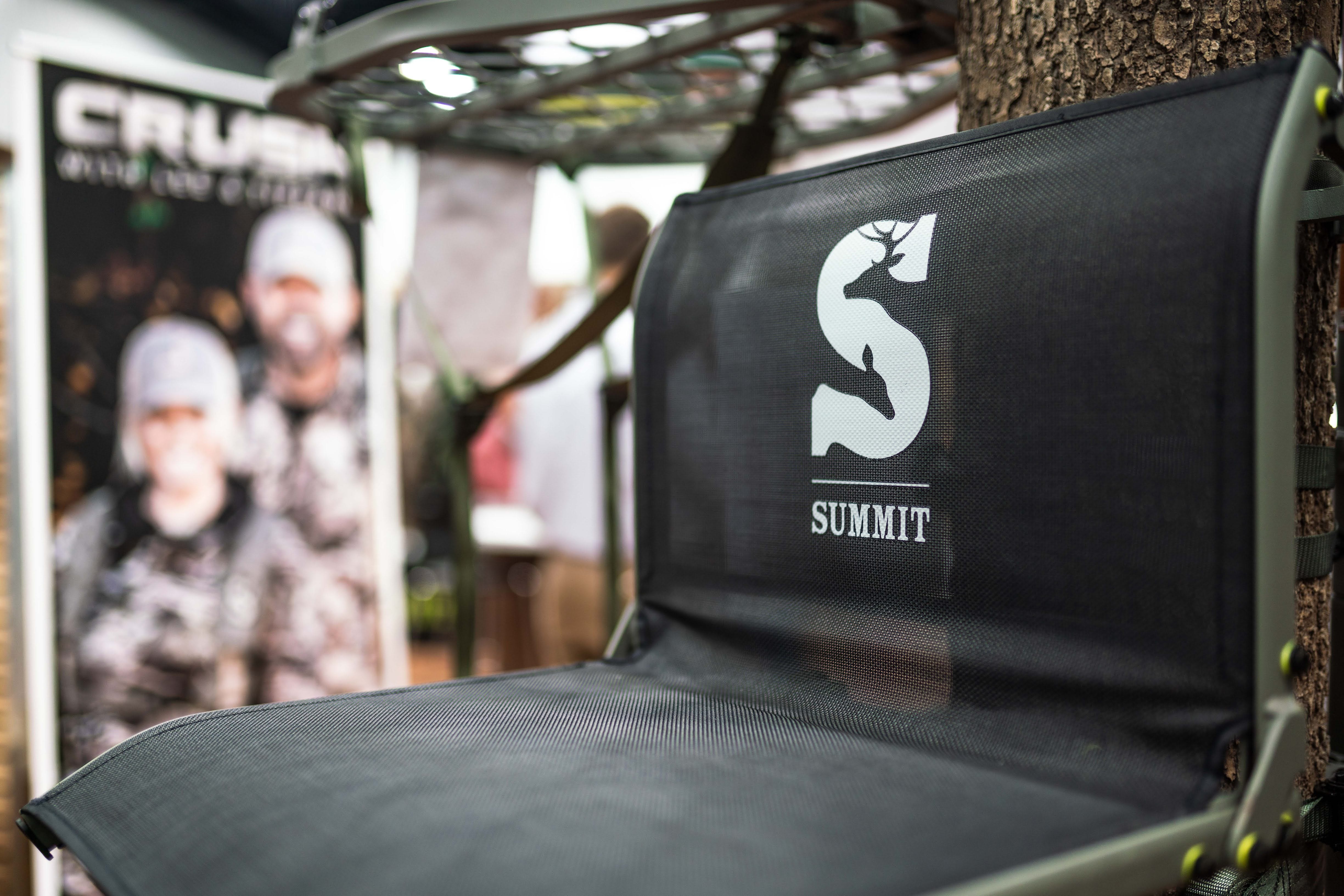 Summit has been hard at work designing and building new treestands that hunters want at a price that will be hard to beat! Summit continues to lead the way in treestand comfort, safety and innovation and that reputation is only bolstered with the release of the new Ledge XT hang-on stand.
The Ledge XT boasts an ultra-comfortable contoured mesh backrest and mesh seat and a folding footrest to prevent leg fatigue. That comfort is further enhanced by the Ledge XT's generous 30"x24" platform that allows for even more foot room thanks to the stand's dual post design which keeps the cables farther apart than on competitor's stands for maximum space.
The Ledge XT is more than just comfortable, it's also incredibly safe thanks to dual securing straps that includes a tree strap with adjustable buckle and double J-hooks on top and a securing strap near the stand's base.
The stand weighs in at 23 pounds and is available at a price that's highly competitive. MSRP $109.99
Summit decided it was time to launch a couple new climbing sticks in 2020 as well. A 3-pack of Summit's Aluminum Climbing Sections allows hunters to climb high while only weighing in at 3.6 pounds per stick. The sections are compact and stackable and feature foldable steps for snag-free transport through the woods. Each section attaches securely to the tree thanks to Quick-attach strap points and the system can support up to 300 pounds. This lightweight system is easy on the wallet as well. MSRP $149.99
Summit's all-new Steel Climbing Stick includes a five-section system that can reach 20 feet and is equipped with Quick-attach straps and strap points. Its sturdy steel construction can support up to 300 pounds and in total weight is 31 pounds. MSRP $169.99
For the hunter who prefers to hunt from a ladder stand, Summit has new single-person and two-person ladder stands with price tags that will turn heads. Both stands stretch 17 feet high and feature folding footrests to reduce leg fatigue during long days afield. The single-person stand has contoured mesh backrest and mesh seats for the ultimate in comfort, while the two-person model features the mesh bench seat and padded backrest. The one-man stand can support up to 300 pounds and weighs 50 pounds. The two-man stand includes a padded flip-up shooting rest and can support a pair of hunters for a total of 500 pounds and weighs in at 70 pounds. MSRP for One-Person ladder is $159.99; Two-Person Ladder $179.99.
Some of the best places to find a wary mature buck are those thick, nasty tangles of cutover and marsh where there aren't any trees to hang a standard treestand or ladder stand. That's exactly where Summit's new Watchtower Ultra shines.
The Watchtower Ultra is an all-new tripod stand. At 10 feet tall, the Watchtower is ideal for gaining a commanding view over brush and thickets that big bucks call home. Its strong yet lightweight steel construction assures years of safe, reliable service while providing adequate portability for fine-tuning the stand location. The fully integrated ladder system is solid, stable and quiet while the built-in, flip-up gun rest provides for rock-solid aiming and easy entry into the stand. The 360-degree silent-swivel seat features a contoured mesh backrest and seat, assuring all-day comfort. The swivel seat can easily be removed so squirrels, rats and the elements won't destroy it in the offseason.
Not all hunting is done from a treestand, that's why Summit is offering one of the most comfortable and adjustable chairs in the woods. Summit's new Adjustable Shooting Chair will tame the most uneven ground with four adjustable legs, each with three-adjustment heights. The armrests are also adjustable for additional versatility and comfort. The chair's extra-wide, pivoting feet provide additional stability in wet, uneven ground. While the seat offers 360 degrees of silent rotation, so you can cover every angle quickly and quietly and the mesh seat and contoured mesh backrest ensures you won't leave the woods early. When your hunt is over, the chair folds up quickly into a compact package and the carry strap allows for easy transport. The Adjustable Chair weighs 18.25 pounds and is rated to hold up to 300 pounds. MSRP $149.99.
Summit also launched a series of hunting accessories designed to make your hunt better, more organized and more comfortable.
The Heated Seat 2.0 improves on the original Heated Seat with improved ergonomics and design that attaches more securely to treestand seats. The battery and heating unit, which can be removed so that the seat can be washed as needed, provides up to four hours of constant warmth. The lithium battery is rechargeable and features dual USB ports that can be used to charge smartphones or other portable electronic devices. MSRP $79.99
Summit's new Handwarmer accessory uses a rechargeable lithium battery (also with USB ports for charging portable devices) to power an internal heating element. The Handwarmer has a durable nylon shell with a zippered accessory pocket and an adjustable waist strap. MSRP $79.99
Since you'll be spending more time in the woods, you'll want to make sure you have all your gear at the ready. Summit's new Seat Back Organizer can help. With an adjustable/universal fit for just about any vehicle, the Seat Back Organizer slips over the headrest of your vehicle's seat and can hold two longs guns and has shotshell and rifle cartridge loops to organize and store ammunition. Mesh pockets hold additional gear and accessories. MSRP $39.99
When it comes time to take the shot, Summit has you covered with its new Adjustable Shooting Stick. With an adjustable length ranging from 32.5 to 80 inches, the stick has a comfortable neoprene grip and a rubber overmolded yoke for quiet, secure support for rifle, shotgun or crossbow. The stick also doubles as a support rod when hunting in hub-style ground blinds, keeping snow and high winds from collapsing the blind when you're not around. MSRP $39.99
And, finally, if your ladder stand's strap has seen better days, Summit now offers a replacement strap kit with everything needed to get your stand back into safe working order. The strap kit features a hefty 500-pound working load and includes ratcheting buckles for stability and security.
Be on the lookout at your favorite hunting retailer for these new products in 2020 and check back here regularly for availability online.
Check out more PRADCO Outdoor Brands including a full line of Moultrie Cellular Trail Cameras and CodeBlue Scents.