Tripod Hunting Stands Enable Mid-Season Moves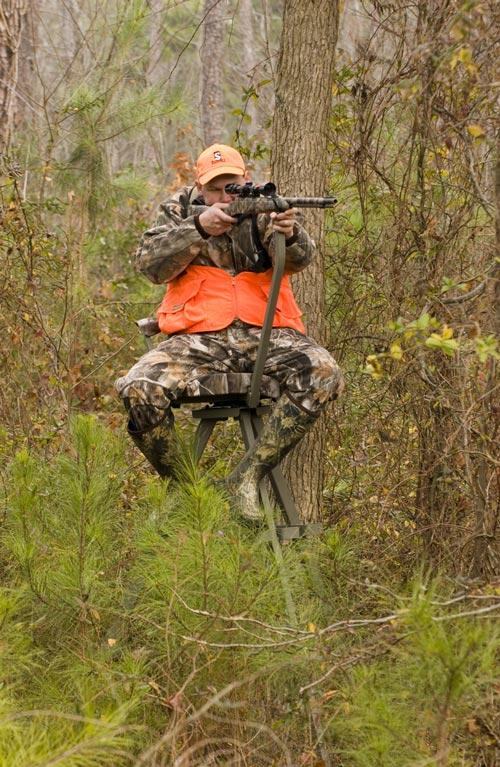 Now hunters in areas with no trees for stands, or trees that won't accept tree stands, such as the vast mesquite thickets of Texas, are no longer bound to the box stand. A new breed of tripod hunting stands is proving that pods, too, can be mobile.
Box blinds provide some benefits. With four walls and a roof, they can be hunted no matter the weather. The drawback is that they're attached to the ground with imbedded posts or other permanent attachments. If the wind is wrong, approach difficult or the deer alter their movement patterns, the hunter cannot adjust to the deer.
Many hunters are leaving their traditional tree stands for a new breed of tripod hunting stands that are both comfortable and mobile. Summit's X-Pod is one of the freestanding ladder stands that can be moved from place to place easily. Unlike big tripod hunting stands, this one easily folds flat. It can be moved in the back of a pickup or two hunters can carry it. A two person hunting stand, the Double X-Pod was introduced in 2007.
Another transportable tripod hunting stand is the Summit Predator Pod. This cool, short tripod stand weighs in at just over 40 pounds. Its three legs can be collapsed together and the whole unit thrown over your shoulder for transport. With a 6-foot seat height, it's just tall enough to get a hunter up over the brush. Just imagine the places this tripod hunting stand will work, even if you live in areas where tree stands are common. Brushy fencerows, open areas overlooking overgrown ravines and tucked in behind pond dams are just three applications.
By: Summit Team